Still not sure where to start with Social Media for your event?
We work with several conference organisers, most of whom have attended conferences themselves where they've be told they must make use of Twitter (in particular) and other social media platforms. But most are still hesitant, or unsure of how to get started.
We recently set up a site for a client who was braver than most.
They've used MailChimp and Twitter rather nicely. Have a look at the site here: www.physicians2014.co.za
At the bottom left, you'll see a signup form for interested parties. This subscribes the delegates to a free MailChimp mailing list, and updates (nice branded HTML updates that adhere to all anti-spam policies) are mailed to them when something important happens.
At the right, you'll see a Twitter Feed. We created a Twitter account for them, and with a bit of magic and some clever plugins, voila! The site is continually fed with whatever they post on Twitter. This also encourages people to follow them, and mention them before and during the conference itself... a 2-way dialogue, just what the social media doctor ordered.
This is really simple to do, and both Twitter and Mailchimp are free for this sort of use (if you are technically-challenged we'll set it up for you for a small fee). You'll be surprised how much exposure you'll get from such small additions to your website.
SAACI 2013 approaches! Can you tell we are excited?
The annual congress of the SA Assoc for the Conference Industry is just over a month away!
We are excited because (a) it's in our home town this year (b) we had a hand in the online services such as event website, online registration and abstract management and (c) have you see the line-up? :)
Guest speakers include Prof Matthew Lester (always a treat!), Marthinus van Schalkwyk (Minister of Tourism), and Alec Gilbert (CEO of Australia's Adelaide Convention Centre).
Plus there are free trips to nearby luxury game lodges, township tours, the local beachfront right over the road from the conference venue. Not to mention the opportunity to network with the cream of the SA conference industry! It's going to be fantastic.
More detail here: www.saaci2013.co.za or click the advert at the left to enlarge it.
'Bay perfect
place for conference'
No other city in the world is better suited to host a conference on emerging markets than Port Elizabeth.
This is the opinion of academic Professor Jagdish Sheth, keynote speaker and one of the 80 top academics and business delegates from across the globe attending the annual conference of the Emerging Markets Conference Board at NMMU.
EP Herald - 20 June 2013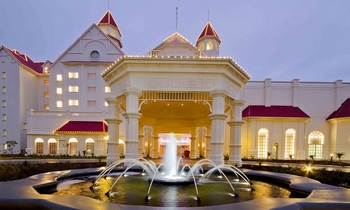 That's right, our new conference centre is up and running, and already making a name for itself.
In fact, the SA Assoc for the Conference Industry have chosen it for their annual congress later this year.
As you can see, it's an impressive building, and stands right on the edge of the bay, looking out to sea. The view is spectacular.
The interior has been luxuriously furnished and there are many options as far as conference rooms/formats go.

SA Conference have listed all the stats here.
Situated in the middle of the beachfront "golden mile", the hotel also serves as a base for excursions into the surrounding area - from game reserves including the Addo National Park to adventure tours, art galleries, angling... and that's just the "A"s! Oh, and it's a 5 minute drive from the airport :)
Clearly worth considering for your next conference.
New features
We've added some new features to EXBO Registrations, which you might like!
When you go to your admin panel, you'll now have 5 action icons (where there used to be just "Details/Delete").
Hovering over them on the screen will tell you what they do, but let's quickly run through them:
| | |
| --- | --- |
| | displays the details of the registration |
| | re-sends the registration confirmation to the delegate |
| | sends a payment status report to the delegate, showing what he still owes |
| | allows you to add a payment for the registration (part or whole amount) |
| | deletes the registration entirely – you will be asked "are you sure?" |
Note that you don't have to capture payments into EXBO – but the facility is there if you need it :)
The payments and amount still owing will also reflect in the Excel download.
Let us know if you have any questions - This email address is being protected from spambots. You need JavaScript enabled to view it.