'Bay perfect
place for conference'
No other city in the world is better suited to host a conference on emerging markets than Port Elizabeth.
This is the opinion of academic Professor Jagdish Sheth, keynote speaker and one of the 80 top academics and business delegates from across the globe attending the annual conference of the Emerging Markets Conference Board at NMMU.
EP Herald - 20 June 2013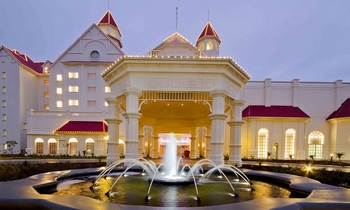 That's right, our new conference centre is up and running, and already making a name for itself.
In fact, the SA Assoc for the Conference Industry have chosen it for their annual congress later this year.
As you can see, it's an impressive building, and stands right on the edge of the bay, looking out to sea. The view is spectacular.
The interior has been luxuriously furnished and there are many options as far as conference rooms/formats go.

SA Conference have listed all the stats here.
Situated in the middle of the beachfront "golden mile", the hotel also serves as a base for excursions into the surrounding area - from game reserves including the Addo National Park to adventure tours, art galleries, angling... and that's just the "A"s! Oh, and it's a 5 minute drive from the airport :)
Clearly worth considering for your next conference.
New features
We've added some new features to EXBO Registrations, which you might like!
When you go to your admin panel, you'll now have 5 action icons (where there used to be just "Details/Delete").
Hovering over them on the screen will tell you what they do, but let's quickly run through them:
| | |
| --- | --- |
| | displays the details of the registration |
| | re-sends the registration confirmation to the delegate |
| | sends a payment status report to the delegate, showing what he still owes |
| | allows you to add a payment for the registration (part or whole amount) |
| | deletes the registration entirely – you will be asked "are you sure?" |
Note that you don't have to capture payments into EXBO – but the facility is there if you need it :)
The payments and amount still owing will also reflect in the Excel download.
Let us know if you have any questions - This email address is being protected from spambots. You need JavaScript enabled to view it.
A look at some peculiar events and exhibits
While rummaging around the interwebs, as one does, I came across an unusual festival taking place in the USA. It's the Turkey Testicles Festival - yes, you read that right! The 30th annual one, no less, this is no flash in the pan (sorry!). Turkey testicles are fried in batter and served to "an eager crowd of 4000 people". Well, I guess Thanksgiving provides a lot of leftovers, and someone came up with an inventive spin-off.
It got me thinking... is it the strangest event, or are there other contenders for that title?
Spain is pretty good at strange festivals... with a nod to the Running of the Bulls, there's also La Tomatino (tomato festival), where participants throw squishy tomatoes at each other. Uh huh. And another that involves throwing flour.
Japan has an event dedicated to fingernails - the Tokoyo Nail Art Expo.
And Finland boasts the annual worldwide Air Guitar champs, a hotly contested event to determine who plays the best imaginary guitar (remember practicising in front of the mirror when you were a teenager?)
Of course, there's an abundance of sci-fi weirdness every year... if you thought the 4-day Star Trek Convention was just one event, think again! Here's a list of what the Trekkies are up to around the world. There is some serious money and organisation behind all that.
And there's the Roswell UFO Festival if you need a break from the Trekkies (although I suspect a good few of them will show up in Roswell too).
Not to be left out, the Australians give us "Tunarama", Home of the World Championship Tuna Toss!
What's the weirdest annual event you know of? Leave us a comment on our Facebook page :)
A 2012 forecast on trends in the exhibition and event industry has proved to be uncannily accurate, and makes for some very interesting reading.
The research undertaken by Chicago-based L!ve Marketing, pointed to 12 emerging trends.
And the vast majority involve technology and social media (we're not surprised, are you?)
Here's a quick look at three of the top trends:
Reach Amplification:
More people will be connected to events because of social media, websites and online communities. Rather than a localised happening, any event can be global and the topic of year-round conversation. A good example of this is the Design Indaba in South Africa, who keep a year-round buzz going, posting snippets of past events, peaks at future ones, industry news... and generally keeping their audience talking to them and each other long after their annual conference has ended.
Simultaneous Attendance:
Thanks to video-streaming, it's possible to attend an event without actually being there. In fact, if you have a look at the events on LiveStream, you'll see that you can attend a conference every day if you wish. For free. In real time. And chat online with others watching it.
(What does this mean for the future of live events? Will it kill them or strengthen them? Will they become more valuable for networking than content, and if so, how should we change our modus operandi?)
Zero Waste Events:
Moving beyond being merely "greener", events are striving to produce no waste. Or at least, recycle all they do create. This links back to the points above - less paper, less travelling, more use of online tools for event management and advertising. Good news for our planet!